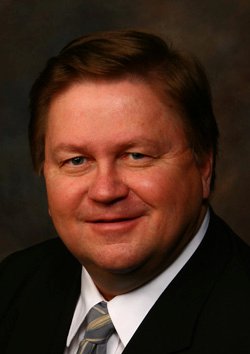 A candidate for Utah Republican Party Treasurer, Rick Votaw is seeking election by the Utah State Republican Central Committee to replace former Treasurer Dave Crittenden. This is the third in a series of brief profiles on those who have filed to run for election to the spot. As information comes out, I will update the profiles here.
---
Utah Republican Party Treasurer Candidate Profile:
Rick Votaw has been the Vice Chair for the Salt Lake County Republican Party as well as acting Chair during the transition period when former Chair Thomas Wright left to fill the position of Chairman of the Utah Republican Party and before Julie Dole was elected by the body as new Chair. Rick brings a background with Votaw Precision Technologies and in the aerospace industry. Rick has served in many positions in the Salt Lake County Republican Party and has also run for positions on the state level, most recently running for Vice Chair of the Utah Republican Party.
Rick was CFO for Votaw Precision Technologies, and is currently retired and enjoying life in Utah. He is originally from California.  He is a strong Republican and has passed on his love of politics to his children. Jeremy Votaw, his son, has run for Salt Lake County Secretary.
---
Endorsement from Utah Republican Party Chair James Evans
Rick has been endorsed by Chairman Evans for the post for a few reasons. First, Chairman Evans is concerned about the upcoming Federal Elections Commission audit that covers the 2012 election cycle. Because Rick is retired, Chairman Evans feels that he will be a good choice, as he can spend his time with the FEC during their audit instead of being concerned about missing time from his day job. Second, Chairman Evans feels that Rick's experience in building and rolling out Voter Link during the time that he was county chair will be invaluable as the party works to upgrade the technology we will be using during caucuses in 2014. Finally, he feels that Rick's retirement will be beneficial as he will commit to work full time in a volunteer position for the party if elected.
---
Beau Sorensen is COO of First Choice Home Health & Hospice and VisionBound International. He has been in healthcare for over 17 years and has been heavily involved in politics since he was 11.
Related articles